07 mai 2009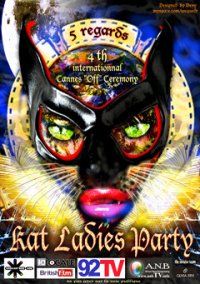 The "OFF DE CANNES" Golden Kats 2009 are new statuettes created for the event by the Argentinean artist Mark-R, and will be handed out by an international jury.
9 trophies will be given this year for the following categories:
- The Cannes festival blog trophy 1
- The photographer of The Kat Ladies trophy 2
- The Katlike visionnary (picture & painting) trophy 3
- The best film presenting The Kat Ladies trophy 4
- The best scenario trophy 5
- The best film photography trophy 6
- The best actor trophy 7
- The Kat Lady of the year (actress) trophy 8
- The best Kat Ladies fashion designer trophy 9
The Competition
Cinema
The participants will have one week to realize a short film of a maximal duration of 3 minutes on the theme: "The Kat Ladies in Cannes"
It is to be précised that the films must be realised in Cannes during the first week of the festival. The films must be handed out on May 18th at the latest. Th films arriving beyond this date will be refused. The films will be judged by a jury of international professionals. 5 awards (best scenario, film, chief operator, actor & actress) will be given during the Golden Kats ceremony on May the 20th. The winners will be given prizes - according to their category – in partnership with film schools.
Photo
The participants should address 1 to 10 photographs representing their personal vision of " The Kat Ladies on La Croisette" during the first week of the festival. The most creative photographs will be exhibited during the evening & a reward will be given to the best one, during the "OFF DE CANNES" ceremony. The winner will be given a prize from partnerships from the photography world.
Picture or painting
As for the photograph competition, the participants will have to address their creation on "The Kat Ladies theme" to the organization team office. The most creative pictures & paintings will be exhibited during the evening. The best creation will be rewarded by a "Golden Kat" during the ceremony & the winner will receive a prize from partners of the artistic world.
Fashion
The participants will have to be present with 5 outfit for the rehearsals on May the 18th. The winners will have the opportunity to present their creation on TV during the ceremony on May 20th.
Commentaires sur THE GOLDEN KATS CHALLENGE